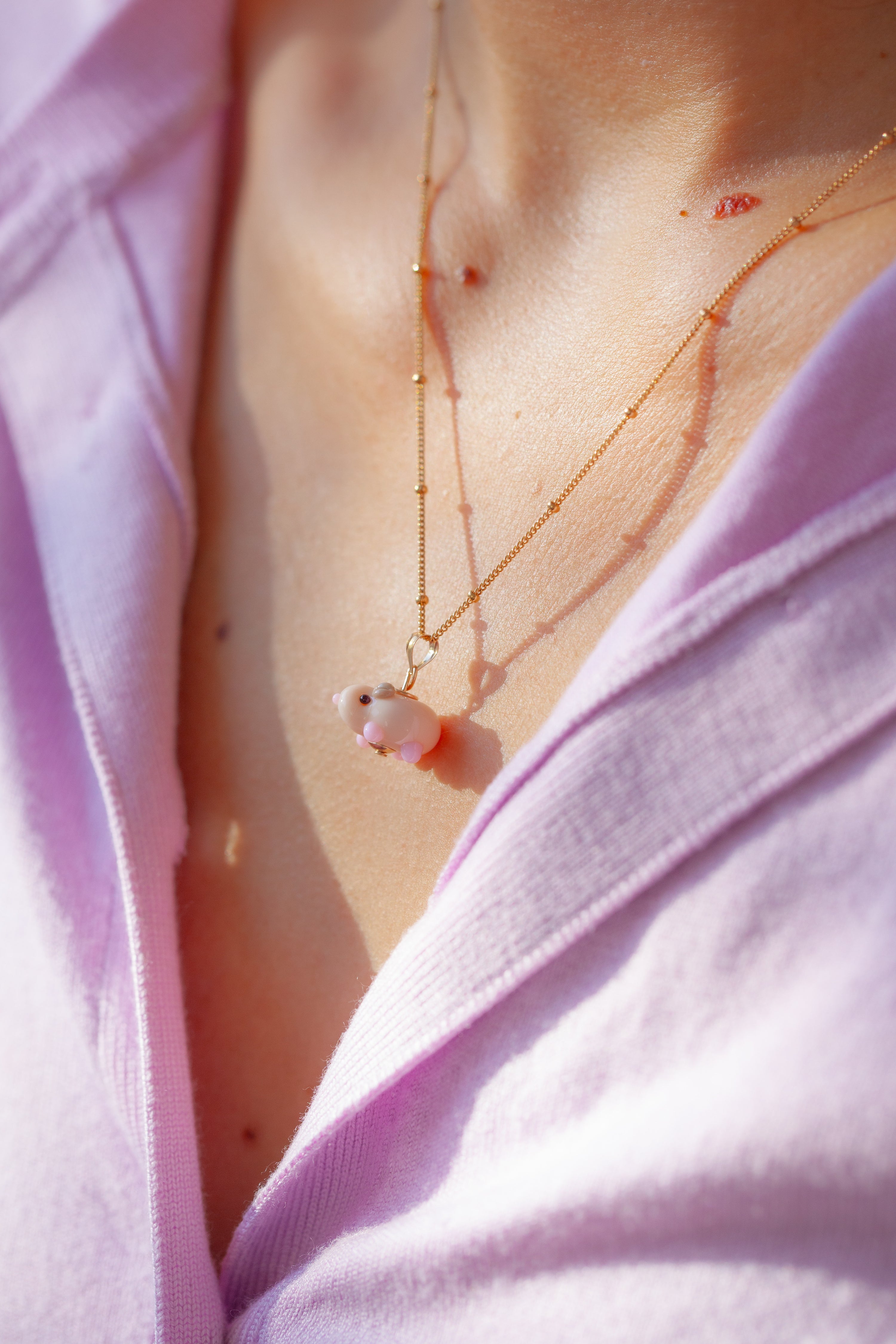 Your new lucky charm necklace 🖤
Description
Materials
Care Instructions
Shipping
Introducing the brand new Hamster charm necklace! A beautiful lampwork pendant necklace, finished in a classic style. This piece is perfect on its own or layered with our other necklaces.

Lovingly designed and handcrafted completely in-house by our founder Katie in her glass studio from scratch. 

The gorgeous satellite chain is available in a Gold filled or 925 sterling silver finish, in a length of either 18" (45cm) or 20" (50cm).

The Lampwork Process
Each lampwork feature bead takes up to half an hour to delicately form by hand in the flame and reaches temperatures up to 800°C, before heading to soak in the warmth of the kiln for over 6 hours where the annealing process strengthens and ensures longevity of the finished bead.
Once cooled, the beads are then carefully removed from the mandrels which they were formed on. They are then individually washed, reamed, cleaned and polished all by hand, before moving to the studio bench where they are crafted into finished pieces, with the total process taking 2 days to complete from start to finish.

Notes
As all our glass jewellery is handmade to order, please allow 1-2 weeks for your piece to be created. Please note that the handmade nature of our lampwork beads means that no two items are identical and therefore slight variations in the beads shown may occur.
Handmade glass bead charm pendant created in our own studio. Gold filled or sterling silver satellite chain.
Your necklace will be delicate please treat it with all the love and care in the world. Avoid contact with soaps and perfumes, water and body oils. Remove before you go to bed and before you exercise, in doing so you will ensure your piece will last much longer.
Please consult our care guide for more information.
UK tracked postage with Royal Mail (2-3 working days) - £5
Worldwide tracked postage with Royal Mail - £15
Free UK shipping on all orders over £50
Free Worldwide shipping on all orders over £150
For more information on our returns & exchanges policy please click here.