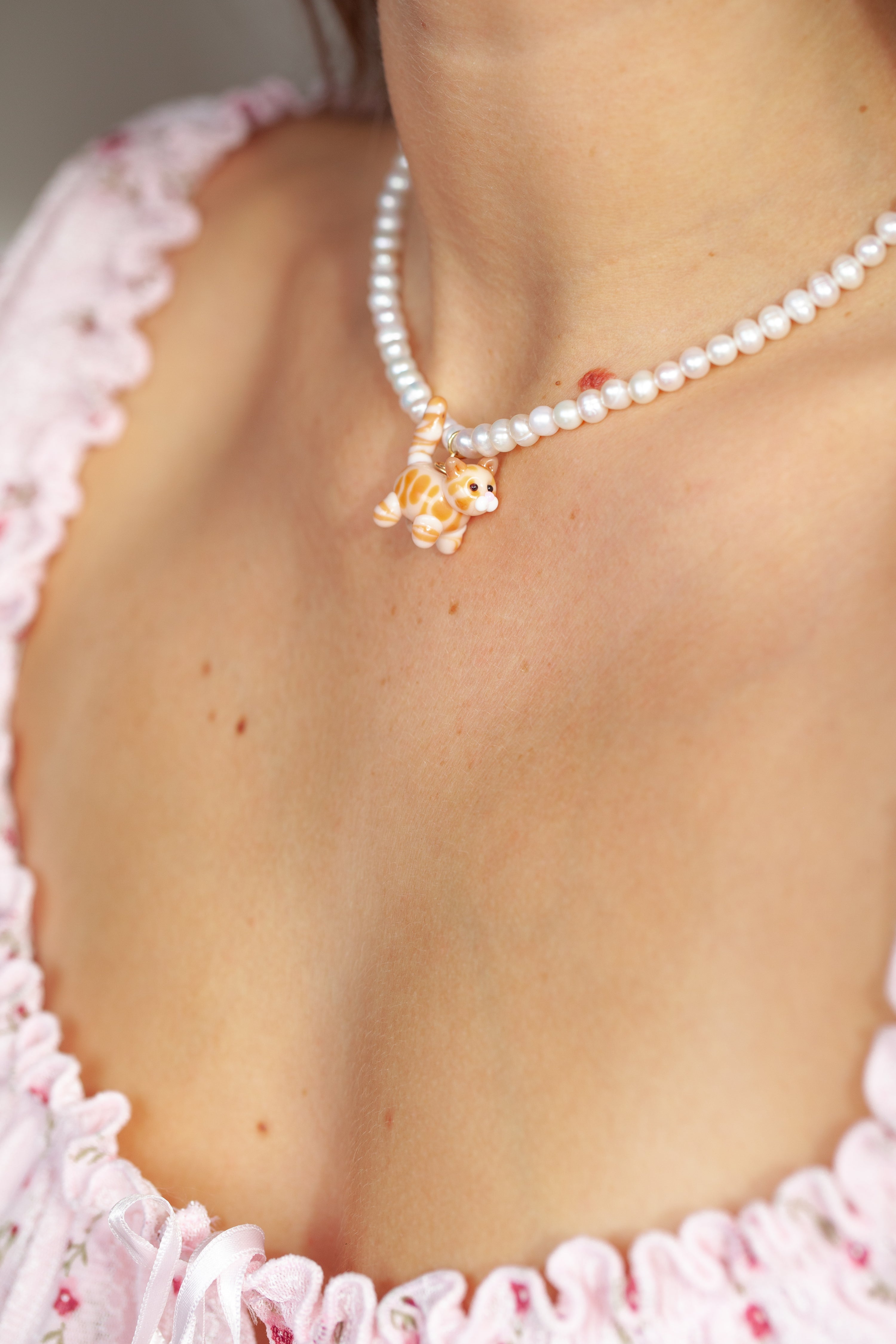 Pearly Kitty Necklace with Custom Kitty *Pre-Order - Limited Slots Available*
Really, what's better than pearls and kitties?
Description
Materials
Care Instructions
Shipping
Introducing the Custom Pearly Kitty necklace! Beautiful strung freshwater pearl necklace with your own CUSTOM Kitty pendant! One of our new favourite necklaces featuring our brand new signature kitty style! <3 
This necklace is lovingly designed and handcrafted completely in-house by our founder Katie in her glass studio from scratch. 
Each individual glass cat charm takes around 25 minutes to delicately form by hand in the flame, reaching temperatures of up to 800 degrees celsius, before then heading to the kiln to soak for around 6 hours in the warmth to ensure strength and longevity. The beads are then washed by hand to release them from the mandrel, cleaned, reamed and polished, before finding their way to our beading mat to be made into something dreamy for you to wear. Meaning each piece takes around 2 days to finish. 
Delicately handcrafted, wearable art glass jewellery.
This necklace comes fitted with our signature Picnic Blanket gold filled tag.
Please read all notices below prior to ordering.

All Cats: Due to the delicate handcrafted nature of this product this means that each cat will be completely unique and no two will ever be identical. Please keep this in mind when purchasing. 
Custom Cats: The cat we make will be in our signature style and although we endeavor to match your cat's colour/markings as closely as possible the practical properties of glass/the colour range we have access to may vary slightly.
Please note: These are a made to order and custom item, please allow 8-12 weeks for your order to enter production 💓
After placing an order please email any reference photos to hello@picnicblanketjewellery.com, including your full name and order number!
Handmade glass beads created in our own studio, including iconic brown teddy bear, pink toadstool, and juicy raspberry. Plus carefully selected freshwater pearls, sparkling crystals.
Your Pearly Kitty necklace will be delicate please treat it with all the love and care in the world. Avoid contact with soaps and perfumes, water and body oils. Remove before you go to bed and before you exercise, in doing so you will ensure your piece will last much longer.
Please consult our care guide for more information.
UK tracked postage with Royal Mail (2-3 working days) - £5
Worldwide tracked postage with Royal Mail - £15
Free UK shipping on all orders over £50
Free Worldwide shipping on all orders over £150
For more information on our returns & exchanges policy please click here.
Pearly Kitty Necklace with Custom Kitty *Pre-Order - Limited Slots Available*